PRO-LINE FITTINGS SPOTLIGHT: Michael Ashworth, Atlantic Canada Sales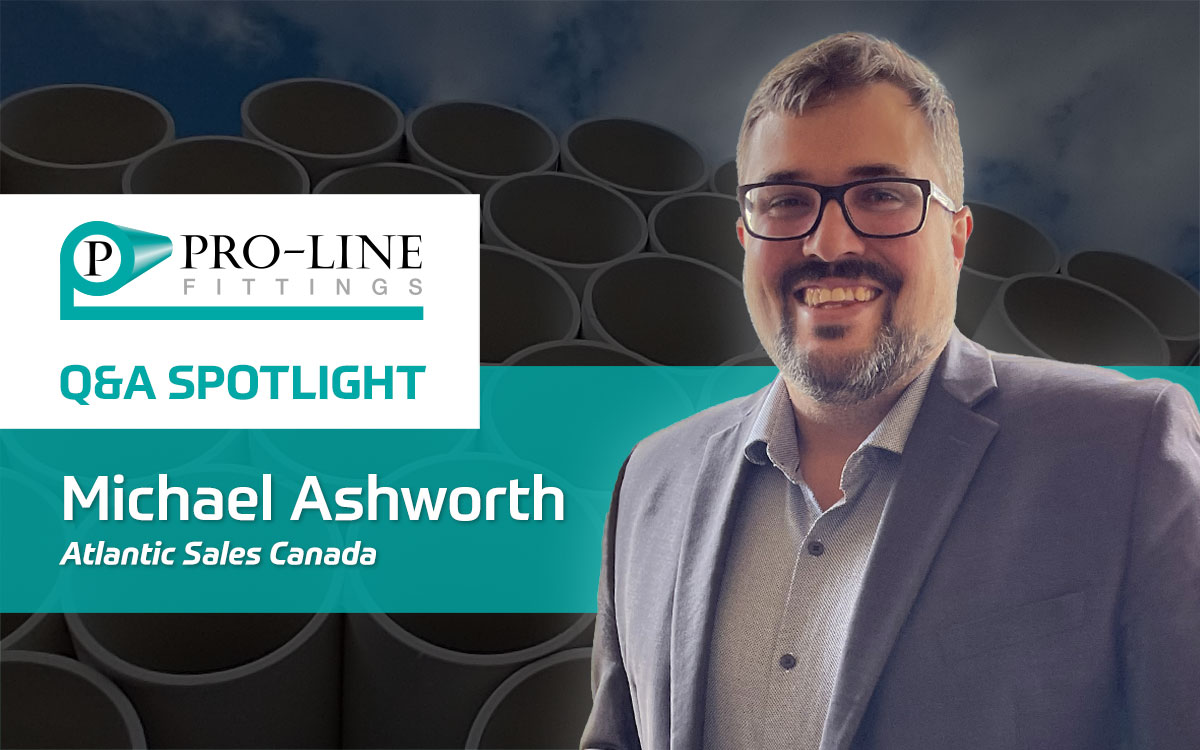 In this third Q&A in our series on the people of Pro-Line Fittings, we talked to Michael Ashworth our Atlantic Canada Sales Representative. He is a man whose big heart and an even bigger personality are only outmatched by his expertise in the waterworks industry. Please enjoy!
To get in touch with Michael or anyone else at Pro-Line Fittings, please visit our contact page.
—
The Pro-Line Fittings team
Q&A
Where are you from and what is your educational/professional background?
I was born in Plaster Rock, New Brunswick in 1982 where I spent most of my childhood working and playing on the family farm. When I was 11 years old my family moved to Fredericton, New Brunswick to allow their children to have a better life. In 2000, I graduated from FHS (Fredericton High School) and was accepted to St Thomas University to work towards a Criminology degree. From there I moved to Calgary Alberta where I got my first career opportunity working for a manufacturing company in the oil and gas industry. I was then introduced to Emco Waterworks, where I was offered a job as an inside sales representative. I spent the next 7 years working with our customers to provide world class customer service. I was then promoted to outside sales where I had the opportunity to work closely with a lot of amazing companies and people throughout the industry. Over the next 5 years, I was able to help Emco grow market share while building solid relationships with all customers. When Covid hit, we all experienced isolation from family and friends. This hit us hard as we were unable to have family visit us from the east coast, as they usually did each year. It was at this time that we decided to make the move back to New Brunswick to be closer to our family and where my amazing journey with Pro-Line Fittings started.
What are you best known for, professionally or otherwise?
I guess I would say my outgoing personality; I love networking and building relationships everywhere I go. My co-workers used to make fun of me for telling my customers I loved them, lol. But I never really saw them as customers but more as a family.
What do you do at Pro-line Fittings?
I have the honor of being the Atlantic Canada sales representative for Pro-Line Fittings. This allows me to visit all the amazing locations around Atlantic Canada and to meet all the amazing people that come with it!!
What is it like working for Pro-Line Fittings?
I love working for Pro-Line fittings. When you wake up everyday with a smile on your face, you can't ask for more!! One of the things I admire the most about Pro-Line Fittings is that they're constantly looking for ways to improve their customer service. Whether its through technology, training or hiring new talent they always do what is needed to make sure their customers enjoy the best experience possible. This and the fact that I get to work in one of the most beautiful places in Canada, with the most amazing people in Canada. I couldn't be happier!!
What is your favorite moment of every day working at Pro-Line Fittings?
I would have to say my favorite part of the day is when I receive that first email or call. I've been doing this for over 13 years, and I can tell you that no call or email is the same, each one has a different question or problem that needs your help to solve it. I absolutely love the challenges that each day brings.
What part or fitting do you like the most?
My favorite fitting would have to be a transition coupling; without it we wouldn't be able to connect the old infrastructure to the new infrastructure!!
Can you recall a customer's project that you really enjoyed completing or working on?
My favorite project that I worked on would be the 17th Ave upgrade in downtown Calgary. This was one of the most challenging and most rewarding projects that I ever worked on.
What are some of the ways you've seen COVID19 affect the industry?
I think the biggest effect Covid19 has had on our industry is the supply issue everyone has seen over the past few years. Due to the tight restrictions needed to install water and wastewater lines in Canada, we are limited to a few suppliers for the key products needed to complete a job. If one supplier has an issue supplying their goods, this leads to an increased demand on the other suppliers which causes a ripple effect on supply. Another effect Covid has had is the way we host meetings and communicate with each other. I know I have used teams meeting more than ever over the past 2 years.
Where do you see the waterworks industry in 5 years?
I think we will see a big focus on new technology in the manufacturing sector. Whether its new technology used to reduce the production time to help increase supply or finding ways to reduce the cost of materials, both will have a positive impact on the industry moving forward. What I would really like to see is Elon getting this Mars mission rolling because I think it would be pretty awesome selling space fittings and I can't wait to be able to tell people that I am an intergalactic sales agent.
Do you have a hobby?
I am big on giving back to the community, so when I moved back to Fredericton, I joined a local Y's Men club. I get to spend a lot of time doing fundraising events to help raise money for local charity groups. Other than that my biggest hobby is my kids' hobbies. I love being able to support them in all their sports/activities and help them succeed in everything they do.