Pro-Line Fittings Spotlight: Shadi Kilani, P.Eng. – Products & Specifications Engineer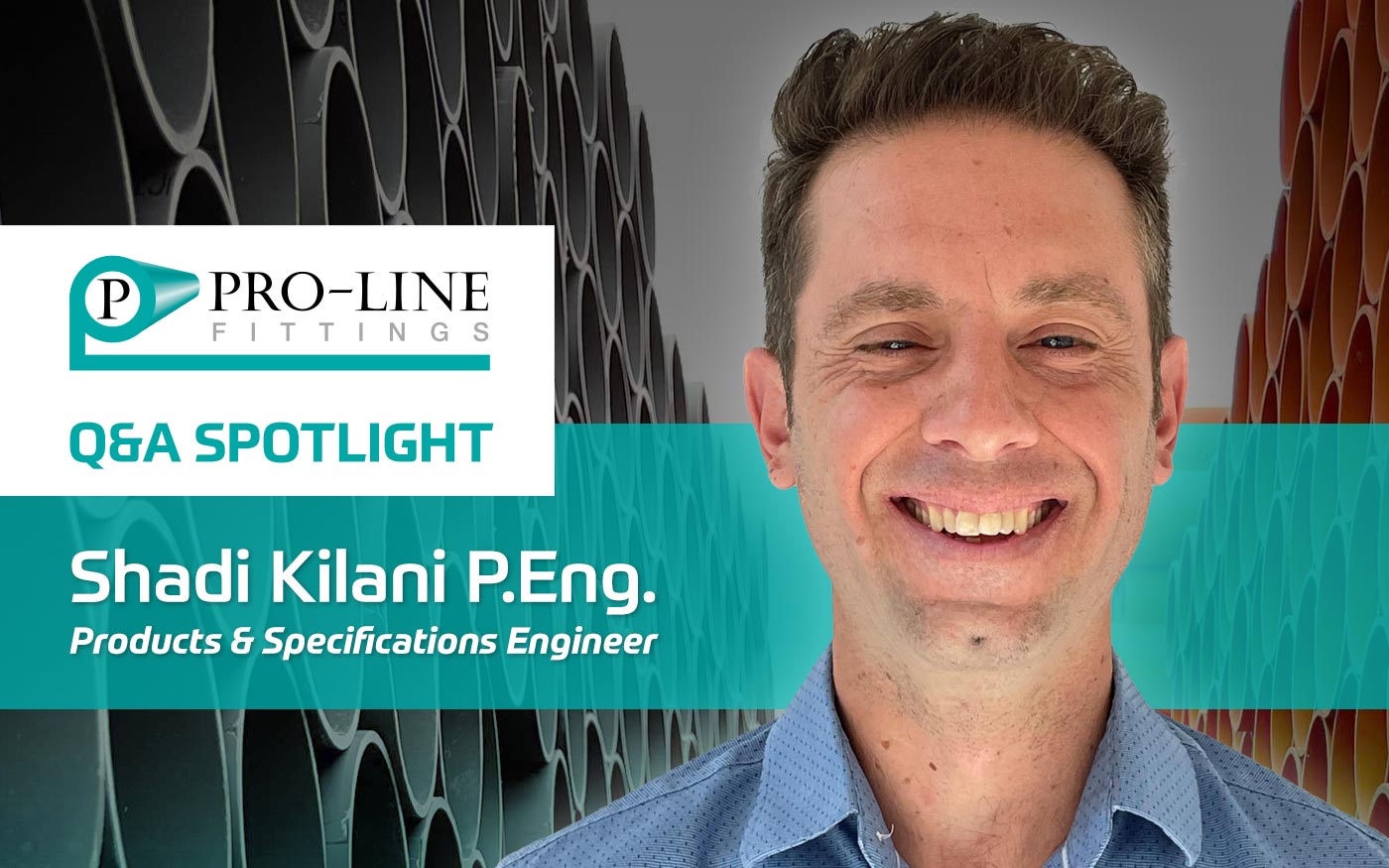 Pro-Line fittings is known for their outstanding customer service, and that reputation can only be achieved by selecting the best people to work with us. In the spirit of showing you a bit of how we work and who we work with, we've decided to start a new series of profiles of Pro-Line Fittings people. In our first Q&A we sat down with our engineer extraordinaire Shadi Kilani, P. Eng.
Enjoy!
—
The Pro-Line Fittings team
Q&A
Tell us about yourself!
Where are you from and what is your educational and professional background?
I was born in Canada and moved to Lebanon at 8 months old; I returned back to Canada at age 11 not being able to speak a word of English. I had a very hard time adjusting to a new country, culture, and language but I was fortunate enough to stumble on some great friends along the way that really helped me. Through a lot of hard work and dedication I made my way to the University of Alberta graduating in Civil Engineering; I spent the first 7 years in my career in Land Development where I did Design, Survey and Construction management. Then out of pure luck I had an opportunity present itself with Ipex as a Municipal Regional Engineer which I wasn't really sure where it would take me but I dove in. I really enjoyed working for Ipex and it really took my career in a direction I never thought even existed when I was in university. After 12 years of working for Ipex, another opportunity presented itself with Pro-Line Fittings which was really exciting.
What are you best known for, professionally or otherwise?
I would say that one thing that really has allowed me to succeed in my commitment to hard work; whether it's in my career, sports, or anything I do.
What do you love about engineering?
I love engineering because it's the "heart" of everything we build! We see beauty in the images of the final product but for me the beauty is in the details that makes the "image" possible.
What do you think makes a great engineer?
A great Engineer is one that finds the balance between practicality and economics while keeping ethics as their #1 priority. A great engineer has to be an excellent communicator; it's not enough to be "right", he/she must be able to convince others of their viewpoint without insulting or belittling them. 
Why did you make the move to Pro-Line Fittings?
Pro-Line Fittings has an excellent line of products and a great reputation in the industry; it was an easy decision.
What does Innovation in waterworks mean to you?
Innovation is being able to identify Ex./Future challenges in the industry and coming up with solutions for them.
What part or fitting do you like the most?
I'm so excited to continue finding out what the Fab Department can build; I think the possibilities are endless in the solutions we can provide.
Where do you see the waterworks industry in 5 years?
I think more and more emphasis will be focused towards finding products and construction solutions for rehabilitating existing infrastructure.
What are some of the ways you've seen COVID19 affect the industry?
It has taken away the personal touch; the biggest thing I enjoy about this industry is dealing with the people personally.
Do you have a hobby?
I'm an avid sports fan! Love the Oilers; I moved to Canada when I was 11 years old back in 1990. I didn't know what hockey was but I remember turning on the T.V. and watching the Oilers/Jets in Round 1 of the playoffs. The Oilers went on to win the Stanley Cup against the Bruins and that was the last Cup for the Oilers. Best thing about that is I had no idea who Wayne Gretzky was, I had no idea who the Oilers were. I just loved the way they played!