Ford / Uni-Flange® pipe restraints provide a fast, economical method of restraining water main fittings, valves and hydrants. Available for PVC and Ductile pipe, Ford / Uni-Flange® restraints guarantee joint restraint, in every soil condition, every time. Eliminate the need for expensive, time-consuming concrete thrust blocks and specify Ford / Uni-Flange® pipe restraints. Available through Pro-Line Fittings
Uni-Flange® Pipe Restraints and Adapter Flanges
Ford Uni-flange Pipe Restraints & Adapter Flanges Complete Catalogue (PDF)
 Ford Service Saddles & Tapping Sleeves 
Ford service saddles are used to install corporation stops on virtually all types of water main pipe including iron, PVC, and asbestos-cement. Tapping sleeves of fabricated steel and stainless steel complete the Ford line of tapping devices.
Ford Bolted Flex Couplings
 Ford Cast Couplings offer an easy and economical way of joining pipe whether the pipe is of the same nominal size and/or type or different at each coupling end. Ford couplings can be made with a many options including stainless steel nuts and bolts and Epoxy coating.
Ford Fabricated Steel Products
All Ford fabricated steel products are built to meet the requirements of applicable AWWA standards. Available options include a variety of stainless steel fasters, a variety of gasket material and fusion bonded epoxy coating.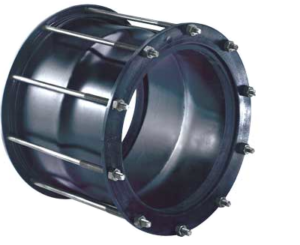 Ford Fabricated Steel Products Complete Catalogue (PDF)